The 411 on College Meal Plans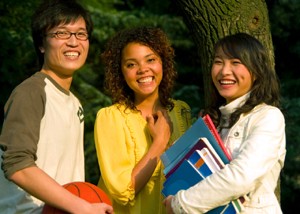 College meal plans have long been disputed. Are they healthy? Are they worth it? Are they optional? Here's what you should consider.

There are healthy options.

If you walk past the aisles of pizzas joints, burger vendors and indulgent coffee bars, most dining halls do have a salad bar. There is also usually a "home cooked" station with fresher fares and restaurant vendors on campus usually have healthy choices too. The main problem students face is that the limited healthy options get boring quickly and the more decadent options become hard to resist. Students should familiarize themselves with the different food vendors in their dining center and scout out healthy options.

Meal plans are convenient but costly.

For many students, breakfast means grabbing a giant bagel and a latte as they shuffle to class. However, when students are spending $8 for breakfast, that convenience comes at a price. It's important to remember that dining halls factor labor and facilities into the price of food. You should also know there are two types of college meal plans, flexible or fixed, and colleges often have only one or the other.

Flexible meal plans charge students for the items they pick out, like a restaurant or grocery store would. They use a pre-paid declining balance system, like a debit card, where students swipe their student ID or meal card and the meal is deducted from their balance. This is convenient because students can easily grab a snack between classes and also take leftover food home with them.
Fixed meal plans provide a certain number of meals each week such as 7, 14, or 21 meals. They are usually cafeteria-style and all-you-can-eat, making them a great choice for many athletes. However, students are charged for the full meal no matter what they eat, so two eggs and toast can cost $10 and leftovers cannot be brought home.
Meal plans are often required for on campus students.

To get students involved in the campus community, most colleges require freshman living on campus to have a meal plan. However, every school is different and they usually offer different plans to choose from. Before deciding on a meal plan, consider your student's normal habits. If they tend to sleep in or skip breakfast, they shouldn't choose a plan with unlimited breakfasts. Also, if their dorm has a kitchen, they can save money by having a smaller plan and cooking some meals at home.

Budget for off campus dining and groceries.

Your student will want to eat off campus from time to time and it's a good idea to leave some room in the budget for it. You might also consider budgeting for the following:

*Dorm snacks:*Healthy, affordable snacks like granola bars and oatmeal can save big on the budget. If your student has a fixed cafeteria-style plan, this can save students from having to use a meal swipe on something small. Also, dining halls aren't open 24/7 so having some late-night study snacks on hand is a must. Look for non-perishables that will last throughout the semester and don't let your kid talk you into buying them junk food.
*Coffee maker:*Coffee shops on campus can make a serious dent in a student's meal plan so they can save big by brewing their own cup at home.
Mini-fridge: If the dining hall lets students take leftovers home, it can save them from using their meal plan as often but they'll need a place to store the food.
Off campus students have options too.

Students not required to have a meal plan may still consider getting one for a few reasons. First, the cost for a meal plan is paid upfront along with tuition, so it can be included in their loans. This means they won't have to worry about paying for meals throughout the semester or carrying cash on them. Also, for students who plan to eat at the dining hall, it is often faster to check out with a meal plan than with cash or credit card. However, students can save money by being resourceful and preparing some or all of their meals at home. Before deciding whether your child should purchase a meal plan or not, check to see if their school has a markup on student meal plans. If it does, they're better off paying in cash.

How to get the best bang for your buck.

It varies from school to school, but often unused meals are money lost. If this is the case at your student's school, they should avoid purchasing too large of a plan. Students can usually pay cash if their meal plan runs out, just be sure to budget for that possibility in advance. When deciding on a meal plan, also have your student check what their friends are choosing. The dining hall tends to be a social experience so your kid won't want to be restricted to a different plan than their buddies have. Not all meal plans are created equal so research your options to make the best choice for your student. Most importantly, if your student has a meal plan, remind them to use it.