How to Select a College - The Non-Exhaustive List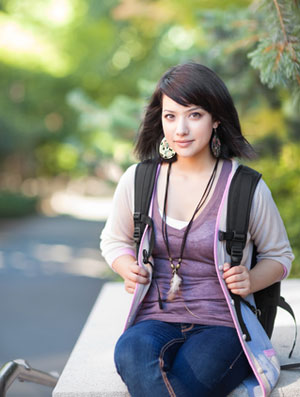 Everyone's journey to finding a college or university that's right for him or her is diverse; therefore it's difficult to pinpoint the ideal approach. However, we've decided to utilize our combined personal experiences and compile a list of what we feel are best practices.

 

Go Back to the School

The first time you visit a university, you're most likely in the midst of several college visits, all within a short period of time. This is the initial stage and exposes you to a number of schools and what they have to offer.

But once you've narrowed down your search to two or three finalists, go visit them again. You've now had time to deliberate what's most important to you, and you can hone in on the specific qualities each school possesses. Make sure you hit the spots on campus that you missed the first go-around, and meet with a current student and/or professor to paint the best possible picture of what it would be like to go there.

 

Balance What You Want in a School and What You Want After School

It's equally as vital to consider how much you'll enjoy the years at school, as it is to consider how this school will contribute to your life post-graduation.

It's most certainly a balancing act. You crave a university with a unique and exciting culture, awesome extra curriculars, and a Panda Express on campus. But you also need to ensure the major you'll be taking up has a killer department behind it and features a solid graduate employment rate.

 

Compromise

Most schools aren't going to be 100% spot on your expectations. A university with an incredible journalism department may be extremely far away from home. Or the college you received a football scholarship to may not have the class sizes you envisioned.

Notice we said compromise, not settle. With so many great options out there, there's no reason you shouldn't be able to find a school with close to everything you want or need. And if you haven't found said school, you're not finished looking.

 

Don't Procrastinate

Those who wake up in March of their senior year just beginning to think about touring college campuses may find themselves in a bit of a high-stress situation. Most college acceptances come back in April or May, therefore if you procrastinate you won't have much time to decide and apply.

Do your homework at least a year or so in advance so that when it comes time for graduation and summer, you can enjoy your last moments of high school instead of stressing about what's to come in the fall.


Don't Go for a Significant Other or Friends & Don't Not Go for a Significant Other or Friends :)

It's just as wrong to avoid a school that your boyfriend or best friend is attending as it is to choose a school for the sole reason of being with them. It probably shouldn't be your primary factor, but there is nothing wrong with selecting a mutual school with those important to you.

It's a myth that just because you choose a college that your friend or significant other is attending, you're automatically going for the wrong reasons. With the transition having the potential to be overwhelming, it doesn't hurt to have a friendly face around to go through everything together. And FYI, you are still allowed to make new friends even if you choose to go this route :)

Be sure the schools you choose are a great fit for both of you, and regardless of the outcome, you'll be happy with your decision.

 

The intimidating task of selecting a college to attend is only as difficult as you make it. It's all about balance, organization and in the end tracking down the place where you'll most likely kick butt! Happy Hunting!