Financial Responsibility 101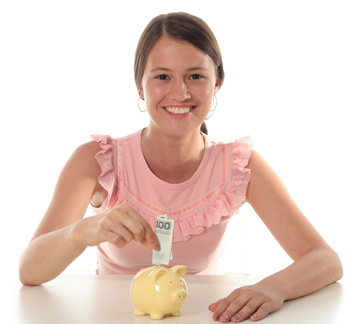 It's an exciting time in your life! Leaving home, going to college, and – above all- becoming an adult and being treated like one. It can get overwhelming, for sure, especially when it comes to handling finances. Hopefully your parents and you have discussed the main aspects of being financially responsible. But just in case, here's an overview of the main points.

1. Set a Budget and Stick with It. Setting a budget is fairly simple. You basically figure out your monthly income (such as what you earn from part time work plus anything your parents are giving you) and your monthly expenses (such as rent, tuition, utilities, and groceries). Total each of these columns. If you are showing a higher income column than expenses, good! You can use some of the extra money for fun and stash the rest in a savings account. But if your expenses are higher than your income, you will need to make changes – either lower your expenses, or find a way to make more money. If you're trying to cut, it makes sense to cut on discretionary expenses such as clothing and entertainment. Your fixed expenses, such as rent, tuition, books, car payments, utilities and food are likely, well, fixed.

2. Avoid credit card debt. This is extremely important. You probably took out at least one student loan to finance your higher education. This is not necessarily bad debt – in many cases it's an investment in your future that's going to pay off in higher lifetime earnings. But credit card debt is bad debt. Rates are typically very high, and it can easily snowball and get out of control. So avoid financing purchases with credit. Always stay within your budget. If you want to buy something, it's fine to use a credit card, as long as you'll be able to pay the statement in full when it arrives.

3. You don't need to have what "they" have. The fact that a friend might buy any new and shiny Apple gadget that goes on the market does not mean that you have to do it too. This is not high school anymore. It's fine to just be YOU and focus on your studies and on your future. Electronics, fancy clothes, eating out every night – very few students can afford this lifestyle without getting into serious debt.

4. Always pay your credit card statement, and any other bills, on time and in full. This will help you avoid late fees, interest payments and fines. It will also keep your credit history clean. The fact that the credit card company allows you a "minimum payment" does NOT mean you should take advantage of that. Only paying the minimum means you'll get into major debt, quickly.

5. Check your credit history. At this point, you probably don't have much of a credit history, but it's definitely time to start building it! Your credit history is a record of your past borrowing and repaying activities. It enables lenders to decide if you are "safe" to lend to. If you're planning on getting additional credit cards, a car, or a house at some future point, you should make sure your credit history is squeaky clean. Use annualcreditreport.com to check your credit report annually. You want to make sure your credit activities (such as using your credit card or paying car loans) are reported by the lenders and are being recorded, and you want to make sure there are no mistakes or identity theft issues.

6. Protect Yourself from Identity Theft. Identity theft is defined as the illegal use of someone else's personal information (such as a Social Security number) in order to obtain money or credit. To protect yourself from identity theft, keep private records and statements in a safe place (shred the ones you don't keep), safeguard your social security number, secure your mail, use an up-to-date firewall and virus protection on your computer, review your credit card statements carefully, and monitor your credit reports.

7. Teach Yourself the Basics of Investing. For now, if you have any extra money left in your budget, you can simply stash it in a savings account in your bank. But start reading and learning about the basics of investing. At some point, you'll want to open a brokerage account and start investing some of your money in the stock market. This is a good place to start educating yourself.

This was just an overview. Stay tuned for future blog posts, where we will discuss many of these topics in more detail.